At the very beginning of 2020, we were able to celebrate a
very special achievement. Having already been awarded a gold medal three times in a row, ROHDE & GRAHL GmbH has now been awarded the EcoVadis platinum medal for the first time.

ROHDE & GRAHL GmbH has taken part in an annual evaluation by independent EcoVadis experts for quite some time. EcoVadis is a platform used in 110 countries to help international companies evaluate their suppliers with regard to their commitment to respect the natural environment and the needs of society.
CSR experts from EcoVadis analyse the responses, supporting documentation and other evidence of the CSR strategy. The evaluation method is based on international standards such as the Global Reporting Index (GRI), the ISO 26000 standard and the principles of the Global Compact.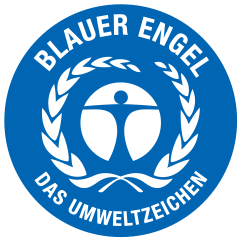 The Blue Angel has been the ecolabel of the German government for the last 40 years. Independent and credible, it sets demanding standards for environmentally friendly products and services. The Blue Angel acts as a guide for selecting sustainable
products.
The Blue Angel guarantees that the products and services meet high standards in terms of environmental, health and functional properties. The entire life cycle must always be considered in the assessment. For each product group, criteria are developed which the products and services marked with the Blue Angel must meet. In order to reflect ongoing technical developments, the Federal Environment Agency reviews the criteria every three to four years. In this way, companies are required to make their products more environmentally friendly on an ongoing basis.
The following ROHDE & GRAHL products have been awarded the Blue Angel certificate:
EMAS: Environmental Management
Ecological and economical development
Our expectation of a newly developed product is that it will out perform, or at a minimum, equal the quality of its predecessors
both economically and ecologically. We already comply with this requirement when purchasing new materials and components.
The environmental characteristics are important for every new development or product change, and we work according to the
company's own specifications for recycling and re-use.
Introduction of the Xilium series of chairs - The development of the Xilium office swivel chair range was based on the following
criteria:
Design for longevity – a durable product designed to be used by the user over an extended period of time. The result of its quality
is a longer warranty on this product.

Design for reparability – easily accessible components, and easy replacement including the corresponding instructions - the aim
is to extend the "service life of the product".

Design for recycling – simple breakdown of the sub-assemblies into individual materials, including disassembly instructions and
information on how much of the product is made from recycled material and is recyclable.

Complete list of materials used in the production of chairs from this series ("BOM", i.e. Bill of Materials) together with required
declarations from suppliers and other documents.
The increasing diversity of people in terms of size, weight, lifestyle and work is a defining sign of our times. The last decades have
seen the most dramatic revolution in this regard. We're getting taller and taller. Regardless of gender and country, we have all grown considerably - on average we are 11 cm taller than our great-grandparents!

The record is held by the Dutch, who have grown by 20 cm in the last 150 years. The average height of a man is 1.84 metres,
while the European average is 1.77 metres. The Xilium range of office chairs was designed in response to the diverse needs of
today's employees. With its wide range of adjustment options, it can adapt to different groups of people and nationalities, taking
into account both well-being and health.
The Xilium office chair range combines unique design with excellent seating comfort. Thanks to its numerous functional solutions, the office chair allows the user to choose his or her own way of sitting - intuitively, without being regulated by technology. The X-MOVE mechanism allows a dynamic sideways movement and at the same time activates a fine rotation in the lumbar area. With its numerous adjustment options, this office chair adapts perfectly to different users and provides appreciably more comfort and support.
Our Xilium and Xenium operator chair models have been designed to fit a wide spectrum of heights and sizes. This ensures a good ergonomic fit can be achieved for the immediate user of the chair but also ensures future use by another person is achieved through the wide range of travel and adjustability of the chairs' features.
​
In an environment of staff well being and ergonomic requirements, the need to provide a 'special chair' for one person only for it to become redundant later should that person move on, is minimised. The existing chair should have adequate adjustment for the new team member to use correctly.
X-Move for Xilium Operator Chairs
Our Most Precious Asset:

The Health, Safety & Wellbeing of Our Customers
We not only offer our customers ergonomic products with patented mechanisms for comfortable and healthy working,
but also a series of further measures to educate them even more about ergonomics. In our product development, we focus
on functionality with a view to ergonomic aspects. In this way, we do not just meet the generally applicable standards - we go
much further to make our products competitive, and not only in the German market. In addition, we have our products tested
by relevant institutions such as "TÜV Ergonomie geprüft" (TÜV ergonomically approved) and "Quality Office".
Our collaboration with occupational health professionals and physiotherapists allows us to react to the most recent demands
for ergonomic workplace design and to implement these in our products. In addition, we train our employees to meet the latest
requirements, so that this knowledge can be transferred to our customers. Our customers are at the heart of everything we
do. By choosing our products, they should be able to create a workplace based on the latest ergonomic insights, improving the
performance and well-being of their employees and increasing productivity. Along with the first delivery of our products,
the customer receives information about the correct use and adjustment of the products, including information about
ergonomic aspects. Training our customers' employees is as much a part of our standards as individual workplace training for light, acoustics etc.
Quality, safety and aesthetics
Our products are a part of people's everyday working lives for many years. Our production, sales and customer service are positioned in such a way that our products are produced, purchased and used in a sustainable manner. A long service life, follow-up delivery guarantees for spare parts, safe design principles and low-emission raw materials characterise our products.
The Geprüfte Sicherheit (GS mark) label certifies that a finished
product meets the requirements of section 21 of the Product
Safety Act (ProdSG).
The German Design Award honours innovative products and
projects and their manufacturers and designers who are pioneers in the German and international design landscape. This is guaranteed by the top-class international jury. The German Design Award discovers and presents unique design trends. In 2018, two products from the ROHDE & GRAHL brand received awards. One was the innovative Xilium chair family ("Winner" in the Office Furniture category) and the other was the new Denuo office chair series.
As a sign of the quality of our products, they have been awarded the Quality Office certificate. Quality Office is the only quality label that combines all the criteria for high-quality products, competent advice and tailor-made service and thus stands for good office furnishings. Quality Office is a signpost for everyone who wants to furnish offices optimally.
The award of the "Blue Angel" eco-label shows customers
and end consumers that our products are particularly low in
emissions.